What I was surprised about at this race was the large number of
"female riders".
Apparently there has been an increasing trend in recent years also
according to the race photographers I spoke to.
Now, let me introduce you to the female riders who I'm personally following.
I spotted a girl who was nibbling on a piece of bread sitting astride
a motorcycle when I was wandering about in the paddock of the Tsukuba circuit.
That was the rider Mayuki Shibata.
My first impression was "I wonder if she has her lunch sitting astride her
favorite motorcycle. How cute!"
I really had the urge to want to speak to her, so I started talking to her.
Riko "Hello. Oh don't worry, you can keep eating your bread."
Rider Mayuki "Oh, yes"
Riko "You must be a high school student?. Wow. Your bike is so cute.
Do you normally ride too?"
Rider Mayuki "I don't have a licence. I can't get one because I have no money."
Riko "Really? Then why are you racing?"
Rider Mayuki "My dad loves bikes."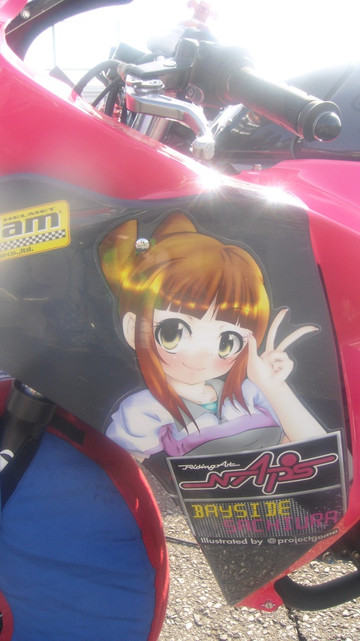 I see that the Motorcyle Accessory Shop NAPS is supporting her.
She said she wanted to ride a "D Tracker" when she gets her license.
I wish you the "Best of luck"
Next, we have Rider Yuki Nagoshi who was riding last year's champion machine.
The team she was on was Tadao Suzuki's SPT which is my favorite.
She is also the older sister of Rider Nagoshi from 56 Racing.
Rider Yuki gave us a smile full of vitality like this as she asked "is this ok?"
Her helmets and suits all feature the bright eye balls.
She seemed as if she was concerned about her little brother during
the race as it looked as if she was caring for him nearby.
I thought it was a beautiful sister-brother relationship that I coincidentally
witnessed.
What a wonderful big sister.
 
And this (below) is Rider Mei Sakurai from 56 Racing which is being led
by Coach Shinya Nakano.
Her machine which is to join the CBR250R Cup was enviously stylish as you would expect from a 56 design with the accented shocking pink.
I want to ride this.
I want this CBR.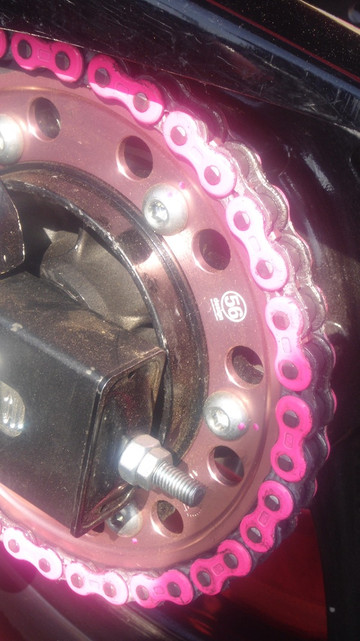 Look at how cute this chain is. (below)
I was captivated by it.
And, I was pleased to have been able to talk to these girls although it was
only for a little while.
I was also able to receive some energy from the power and the energy
which these female riders had.
I know it doesn't seem appropriate for someone like me that is a terrible
motorcyle rider, but I felt something similar to them.
Perhaps it was their inner spiritual strength that female bike riders have.
It is something fresh, yet I felt a secret powerful inner strength
which they carried.
This was Riko's "Girl Groupie version" which gave a lot of dreams and
hope to our future CBR250R.
Riko Fukuyama (Article of March 7, 2013)